Oil Change & Tire Rotation
at Expressway Airport Parking
Have your car detailed while you travel!
Minimum 48 hour parking required
How Oil Change & Tire Rotation at Expressway Works
We've partnered with partnered with Fleet Management Services. Fleet Management is a certified ASE maintenance facility qualified to service all domestic and foreign vehicle makes with 4 staff mechanics and a body shop servicing over 40 local company fleets for the last 10 years. Brakes will be inspected on every tire rotation and if brake service is recommended, you will be contacted with an estimate. These services are available with a minimum 48 hour parking transaction, Monday thru Friday, weekends excluded.
How to Get Started

or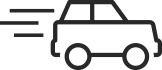 Get Started Today
Tire Rotation
Tire Rotation with
Brake Inspection $40
Includes
Tire Rotation
Brake Inspection (If Fleet finds any brake issues they will call, text or email to brief you on solutions)
Oil Change
Oil Change (up to 6 qts.) Bulk Full Synthetic Oil  standard *
$69.95
Oil Change (up to 6 qts.) Dexos Full synthetic 5w20 5w30 *
$89.95
Oil Change (up to 6 qts.) Dexos Full synthetic 0w20 *
$95.95
Oil Change (up to 6 qts.) of Mobile One * 
$117.00
Oil Change (up to 12 qts.) Diesel Rotella 15w40   * 
$161.40
Oil Change 2017 or newer, (up to 12 qts.) Diesel Rotella 5w40  * 
$182.00
If your car requires more than 6 qts. of oil for a gas engine and 12 qts. for diesel, additional quarts are extra.
Includes
Basic house bulk oil (Unless manufacturer or customer specifies)
Oil Filter Change is still included in the price with exception for

Cartridge Filter $16.50
Diesel Filter $38.50

Tire pressure check
Top off all fluids
Check belt tension
Check hoses
Check air filter (If an air filter is needed, Fleet Management Services will call, text or email for authorization to replace)
Tax is included in price
Have questions about our oil change & tire rotation repair services?
More Car Care Services
We're proud to offer you car care services while you travel!