Business Rewards Program
If you travel a lot for business, our Rewards Program is for you!
Redeem Points for Services
Trade your earned points for car care services! Remember—promotions like the 5th day free, the long term rate or other promotions can't be combined with rewards transactions.
Basic Auto Wash
Cars: 500 pts.
2row SUV/Trucks: 605 pts.
3row SUV/Minivans: 715 pts
Interior & Exterior Details
Cars: 1320 pts.
2row SUV/Trucks: 1485 pts.
3row SUV/Minivans: 1650 pts.
Full Details
Cars: 2200 pts.
2row SUV/Trucks: 2470 pts.
3row SUV/Minivans: 2750 pts.
Other Services
Tire Rotations: 270 pts.
Headlight Restoration: 880 pts.
Glass Chip Repair: 600 pts.
Additional Chips repaired = 190 pts. each

Oil Changes
Regular Oil Change: 475 pts.
With Dexos Syn Blend: 590 pts.
With Name Brand Oil: 670 pts.
With Synthetic: 799 pts.
With Name Brand Synthetic: 899 pts.
For Diesel with Rotella: 1200 pts.
*All rewards transactions and reservations are calculated at the standard daily rate for covered parking. Points are not accrued on free parked days. Points have no cash redemption value, and cannot be transferred. Rules may change at any time.
How to Use Your Expressway Business Rewards Card
At the Entrance
Don't take a ticket, simply scan your Rewards card over the card reader mounted on the entrance ticket machine and the gate will open. If your card does not read, pull a paper ticket. Tell the cashier at the exit that you are an Expressway Rewards member and they will apply your credit.
Use the Express Exit lane
Scan your Expressway Rewards card at the Express Exit kiosk reader mounted on the Express Exit lane kiosk. Your parking charges will be displayed, it will automatically be processed to your credit card on file, and a receipt will be emailed to you. If you choose not to link your credit card, credit card payment can be made at the automated Express lane kiosk.
If you use the Cashier Window
Hand your card to the agent and they will close your transaction.
Check Your Balance
When you're ready to redeem points for parking, log in to your account with your password and email address. When you have accumulated a point balance, you can redeem them yourself by creating a reservation.
Expressway Airport Parking Mobile App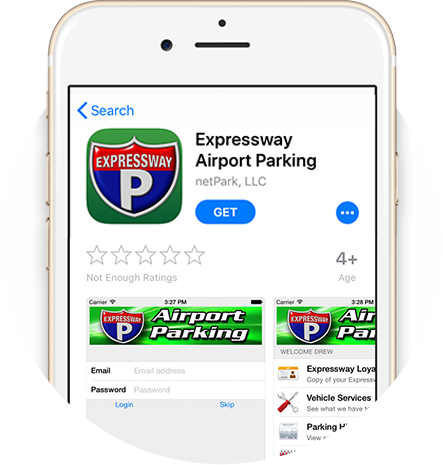 Expressway Airport Parking Mobile App
If you're a frequent business traveler who would benefit from our Rewards Program, sign up today to start saving!